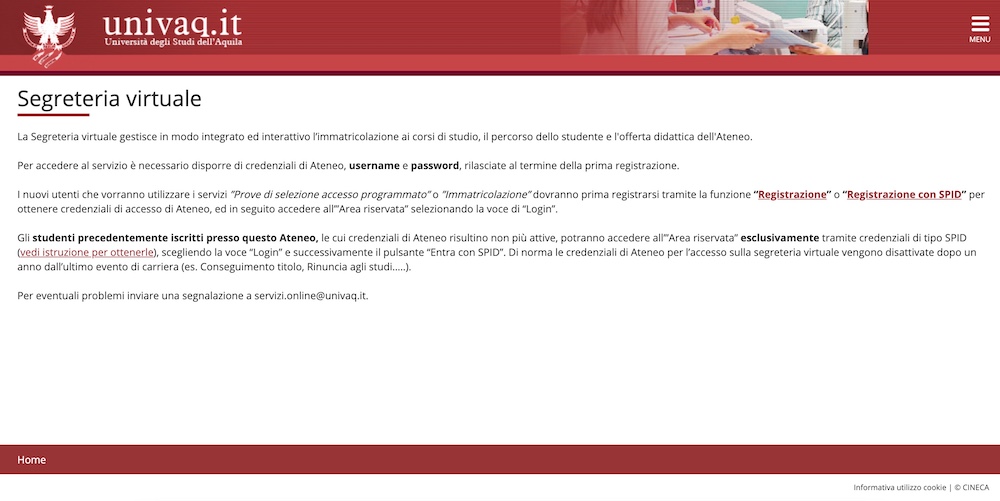 Being our programmes coordinated by the University of L'Aquila (aka "UAQ" or "UNIVAQ"), you'll need to enter the UAQ student information system called Segreteria Virtuale (aka ESSE3) quite a few times to perform various tasks. Segreteria Virtuale is in actual fact a gateway to a number of online resources like enrolment, exam booking, transcripts of records, degree certificates and many more, as you can see below.
You will receive your UAQ credentials via email only when your enrolment is completed and you have been assigned a matriculation (student ID) number. In actual fact you'll get two email messages in Italian from servizi.online@univaq.it

Email 1 (Subject "Registrazione"), when your preliminary online registration on Segreteria Virtuale has been completed. That message contains your username ("Identificativo utente") and password ("Chiave di accesso"). 
Email 2 (Subject "Immatricolazione definitiva"), when the whole enrolment process is actually completed (i.e. fees have been paid, the Registrar has checked your data, required documentation, etc.), you will be assigned a matriculation number/student ID ("matricola" in Italian). Beware, only 24 hours later your Office365 account will start working and you may start using all the services described in this page.
What you can do with your UAQ credentials
Your Univaq credentials consist of a password and a username. You username comes in two formats:
Short version (username), typically made up of 3 characters from your name and another 3 from your surname, e.g. for student John Smith: johsmi
Full version (fullname.surname@student.univaq.it), e.g. johnwilliam.smith@student.univaq.it, which is also your institutional email.
Beware your Univaq account will expire one year after graduation! Make sure you'll have backed up all your files, emails and degree certificates before that